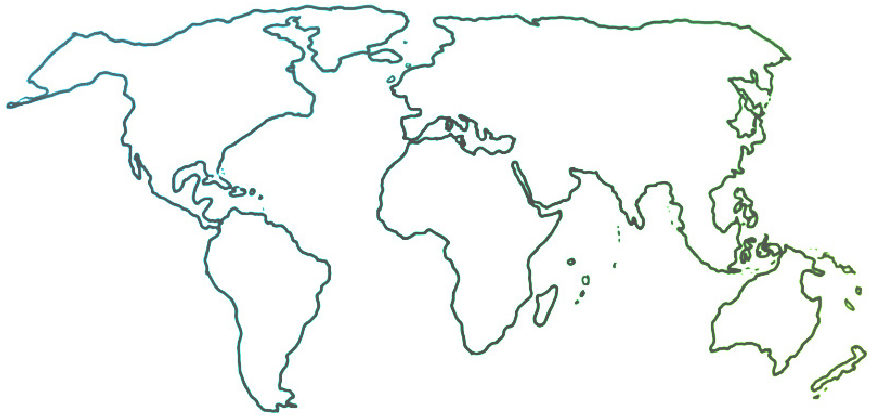 The Ensemble seeks to connect and inform all people who are committed to ensemble music education for youth empowerment and social change.
The Ambassadors' Exchange: The Ensemble Ambassador Spotify Playlist
03-01-2023
This month, The Ensemble Ambassadors got together and began our first project with our new cohort leader: The Ensemble Ambassador Spotify Playlist. Each Ambassador was asked to submit three songs: a "hype" song, a song we love, and a song that represents our culture or country of origin. In addition to creating the playlist, each ambassador reflected on why we chose our songs; read those perspectives below. Sharing music is an amazing way to connect with new people, so we hope you can check out our playlist!
Brianna Herrera (U.S.)
Hype Song: "Heavydirtysoul" by Twenty One Pilots
This song always manages to get me singing and dancing along. This band has had a special place in my heart for years—they were even the first live show I've ever attended. I listen to this song when I need a good jam session or to put a pep in my step when walking around campus.
Song I Love: "The Jaws of Life" by Pierce the Veil
Although this is a recent song, it already has a special place in my heart. I have loved this band for a long time; this song is also the title of their latest album, which has finally been released after seven years! The song is about finally being okay with where you are in life and beginning to feel happy again, which really resonated with me considering how much my life has changed in such a short amount of time. I wholeheartedly believe that Vic Fuentes is a genius musician for incorporating beautiful lyrics with catchy instrumental parts. Some of the lyrics may be heavy and morbid but that makes it all the more impactful.
Song that Represents My Culture/Country: "Urge" by Vicente Fernández
While I listen mainly to rock/punk music, I am still very open to other genres. With both of my parents being from Puebla, Mexico, I've grown up around Spanish music, specifically mariachi, bandas, and corridos. Vicente Fernández was a Mexican musician who recently passed away, but his music was absolutely gorgeous. I chose this song to represent my culture because of the instrumental and style of the overall song. Many songs that I've grown up with are heartbreaking lyrics with beautiful string and brass instruments accompanying the vocal soloist. As I grow older and continue to study music, I learn to appreciate how beautiful music can really be.
Gracie Lewis (Canada)
Hype Song: "Can't Hold Us" by Macklemore & Ryan Lewis (ft. Ray Dalton)
This song has been out for about seven years now and, since then, it feels like it has been present in my life. Whether it is played on the radio, in the gym before a basketball game, or at school events, it has the capability to hype up a crowd. Its upbeat, intoxicating rhythm and uplifting lyrics always seem to get my heart pumping.
Song I Love: "Dernière Danse" by Indila
I first heard this song about six years ago, which is when I was still working to learn French. Although I couldn't completely understand the lyrics, the vocals and melody drew me in. As I continued to improve my French, I could make sense of the lyrics, which made the song even more gorgeous.
Song that Represents My Culture/Country: "Four Strong Winds" by Neil Young
Canada is such a diverse country, home to many famous musicians, so it's hard to choose just one song. I chose "Four Strong Winds" because I grew up with it; I associate it with being out in nature, as my father would always play it when we were out camping. I remember lying back and staring at the stars, surrounded by the quiet forest. This connection to nature is part of the Canadian experience—and Canada, in my opinion, has some of the most gorgeous scenery and nature you could ever experience.
Jacobo Mayo (Colombia)
Hype Song: "Hoy" by Gloria Estefan
This song makes me feel really excited because it has a joyful rhythm. Also, the inspiring lyrics lead me to think about good things and make me remember a lot of people that I love.
Song I Love: "Para que Sepas" by Juan Luis Guerra
I like this song because it has a lot of clarinet solos. This song is really important to me because it was shown to me by my mother; since then, I hear it every day and never get tired of it.
Song that Represents My Culture/Country: "Colombia Tierra Querida" by Lucho Bermudez
I think this is the most representative Colombian song—it's heard and played a lot and every Colombian should know it. "Colombia Tierra Queria" means something like Colombia Beloved Land. I think the title expresses what Colombia means to its people, and that's why I like it.
Melis Erselçan (Turkey)
Hype Song: "Make Up Your Mind" by Florence + The Machine
This is my hype song since it has a great rhythm. I can walk with great confidence when my earphones are on. Moreover, Florence (the lead vocalist) has an incredible voice.
Song I Love: "Butterflies and Hurricanes" by Muse
Principally, Muse is my all-time favorite band. The lead singer Matt Bellamy is a highly talented composer. He uses classical music in the band's songs both arranged and inspired by them. The piano solo in "Butterflies and Hurricanes" is inspired by Prelude in G minor, op. 23, No. 5 by Sergei Rachmaninoff, and this solo is magnificent. In the background, we can hear the violins and the electronic effects. I do not even need to talk about Bellamy's voice. The song is really full of surprising and beautiful characteristics.
Song that Represents My Culture/Country: "Köçekçe" by Ulvi Cemal Erkin
In a word: FEAST! When you listen to Köçekçe, it is impossible to stand still. In fact, if you play it in an orchestra, you cannot stand without smiling or dancing because the music's energy is incredibly high.
I chose this piece since it is known by people all around the world. However, I do not know that people know about its form. Therefore, I am here to explain. Köçekçe is a traditional Turkish music played for Köçek groups to dance along to. The song was composed by Ulvi Cemal Erkin, one of the most important Turkish musicians and a member of Turkish Five, pioneers of classical music in Turkey.
Molly Thet Htarr (Myanmar)
Hype Song: "OMG" by New Jeans
This is my hype song. It went viral as soon as it was released and I haven't been able to stop listening to it (I'm starting to fear that I'll get bored of it soon!). I love its beat; their genre is very lively and just tweaks my brain chemistry. I am still shocked that their Maknae (the youngest member in a K-pop group) is a 2008 baby—woah!
Song I Love: "Cardigan" by Taylor Swift
I love this song, but honestly, it was really hard to find my favorite song. It changes depending on my mood.  However, I always find myself coming back to Taylor Swift—she just scratches my soul in some way. She is my literature queen and I will never stop analyzing her music. I honestly think she is a genius to have the ability to capture something in me.
Song that Represents My Culture/Country: "မန်းတောင်ရိပ်ခို" by MyoMa Nyein
This song is a good representation of my culture. It uses a variety of Myanmar's traditional instruments with a medley of Western strings. This is performed during our Water Festival, which commemorates Myanmar's New Year. There is not one person in our country who has not heard of this song!
Pedro Ramos (Cohort Leader, U.S.)
Hype Song: "Vamos" by Mexican Institute of Sound
"Vamos" by Mexican Institute of Sound is a hip-hop song that explores and implements the soundscapes found in various shades of Mexican music—hence the band's name. The production of this track is super catchy; the ostinato horns, the menacing bassline, and vocal inflections and harmonies bring attention to the lyricism of the song. I particularly like the messages this song shares, especially when it talks about bringing revolutionary energy into different facets of your community, including that of your family and neighborhood.
Song I Love: "El Lugar Correcto" by Natalia Lafourcade
"El Lugar Correcto" is a song about living in past traumas, whether from loss or heartbreak, and taking time to process trauma by listening to your heart. I particularly enjoy this song because it is a follow-up to a song Natalia wrote in 2015 with a similar title, "Mi Lugar Favorito." In that song, Natalia proclaims her love interest as her "favorite place." In contrast, "El Lugar Correcto" is a mature reflection of taking time to count your blessings, find your values, and truly listen to yourself. For Natalia, that means going for walks by herself and spending time in her garden. For me, that means spending quality time with my family and organizing for the betterment of my community.
Song that Represents My Culture/Country: "En Mi Pais" by Guillermo Anderson
"En Mi Pais" by Guillermo Anderson is a combination of raw, organic guitar-playing and a love for Honduras. Guillermo Anderson sings about Honduras' natural beauty, its cultures, and its people. For example, the chorus of the song explores the multiple instruments that are important to Honduras, including the marimba, the conch shell, and the drums. The song also pays homage to the importance of the Garinagu people and their influence on Honduran culture with the lyric "Here is Africa in song, in life, and in the drums." When I listen to this song, I can't help but cry because I am deeply moved by my country, its natural beauty, and the will of its people.
Tamara Castillo (U.S.)
Hype Song: "Don't Stop Me Now" by Queen
I would say I'm a fan of Queen, but there are many songs of theirs I have yet to discover. I believe my earliest memory of listening to this song was from watching a lip sync battle from The Tonight Show with Jimmy Fallon, which I absolutely love. This song is super upbeat and fast-paced, but I love the mellow introduction featuring Freddy Mercury's strong vocals. It is a feel-good song with confident lyrics like "I'm burning through the sky… I'm traveling at the speed of light," "I'm having a good time, and of course "don't stop me now." Because who wants to be stopped when they're feeling invincible, confident, and passionate?
Song I Love: "Coloratura" by Coldplay
Listening to this song is like floating on a cloud deep into a starry night, where all you can hear is your own inhale and exhale. This song demonstrates a deep understanding full of hope, endurance, love, joy, pain, and sadness. It is a journey that I like to go on right before I go to sleep in the darkness, venturing through my own feelings and thoughts. I love the introduction and blend of various instruments, including piano, harp, bass guitar, drums, synthesizer, and vocals. In addition to the beautiful instrumentation, the lyrics also stand out to me as I consistently pursue and yearn for poetic writing. This song appears in Coldplay's album Music of the Spheres and was inspired by the cosmos and the afterlife. I think there is something in it for everyone, especially with lyrics that can be left to interpretation like "in this crazy world, it's true I just want you." "You" could mean another person, or it could mean God, or an ambition of your own. In two words, I would describe this masterpiece as ethereal and cinematic.
Song that Represents My Culture/Country: "Que Seas Muy Feliz" by Alejandro Fernández
Viva Mexico! Mariachi is an absolute staple in the Mexico's rich and beautiful culture. Oaxaca, Mexico is home to both my parents; in raising their children in the United States, it was imperative that they pass down their values of culture and tradition. Listening to music was one way of ensuring that my siblings and I would learn (1) the Spanish language and (2) Mexican artists who carried our history and love for Mexico. Many Mexican artists seem to cry for their land and their people, quite literally sometimes, hence the infamous "grito" in many of our songs. A grito is basically a vocal cry full of emotion, spelled out: "ah-ha-ha-haaaaaeeeeeeeeyyyyyyyyy!" It originates back to the beginning of the Mexican War of Independence, when Miguel Hidalgo supposedly uttered a battle cry to begin the war. Nowadays, you hear it all the time to express joy, pride, sadness—a whole range of emotions. The way to immediately identify Mariachi is typically by finding these three different components: (1) strings including violin, vihuela, and guitarron; (2) trumpet; and (3) a low-register warm voice with vibrato, similar to the range of a cello or viola. I chose this song because Alejandro Fernández is the son of Vicente Fernández, who is among the most loved and praised artists in Mexico. Mariachi represents my people and my being; it expresses what words cannot because music is a universal spiritual language.