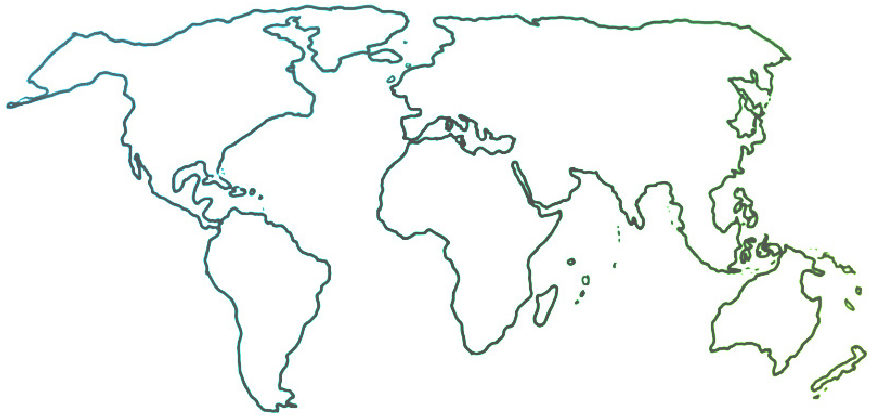 The Ensemble seeks to connect and inform all people who are committed to ensemble music education for youth empowerment and social change.
The Ambassadors' Exchange: (Re)Introductions
04-05-2023
The Ambassadors came together in March to continue their introductions. Instead of meeting over Zoom, as cohorts have done in the past, this year's group decided to transfer all communication to the Discord app. Primarily used for gaming, Discord allows for video chat and for the creation of different servers to organize communication. For example, our Discord server has a "Submissions" channel, where Ambassadors submit their writing to be reviewed and published. We also have an off-topic server where we can send memes or call outside of our formal meetings.
Since this month is about introductions and reintroductions, the Ambassadors played multiple games on Discord to help the team coalesce. For example, we played Skribbl.io (a drawing-based guessing game, like Pictionary) and "Would You Rather?" One revelation from "Would You Rather?": the Ambassadors would all prefer to see a popular music concert over a classical concert. To cap off the month, the Ambassadors were tasked with writing a short introduction about themselves as an exercise in self-reflection and community.
—Pedro Ramos, Ambassador Cohort Leader
Brianna Herrera (U.S.A)
Melis Erselcan (Turkey)
Tamara Castillo (U.S.A.)
Molly Thet Htarr (Myanmar)
Jacobo Mayo Espina (Colombia)
Esteban Molina (Colombia)
---
Brianna Herrera (U.S.A)
Hello! My name is Brianna Herrera, and this is my second year in The Ensemble's Ambassadors Program. Although my parents are both from Puebla, Mexico, I was born and raised in Allentown, Pennsylvania. I am currently a second semester freshman studying music education at Kutztown University of Pennsylvania, with a focus on violin. Although I am away from my El Sistema program back home, I find ways to stay engaged and advocate for music. Here at my university, I am involved in the KUO (Kutztown University Orchestra), NAfME (National Association for Music Education), and a music fraternity called Sigma Alpha Iota. When I am not at school, attending clubs, or practicing, I unwind by journaling and spending time with friends and family.
I'm a part of the El Sistema Lehigh Valley program in Allentown, P.A.—part of the Allentown Symphony Orchestra. I enrolled in this El Sistema–inspired program when I was only seven years old. At first, my parents were skeptical of me joining an afterschool program, but they nonetheless supported my decision to enroll. This program has changed my life for the better; I've made so many friends through music and found something I am wholeheartedly passionate about. After playing in ensembles, toward the end of my high school career, I wanted to get serious about my career and music. As a future music educator, I hope to give students similar and new opportunities that my El Sistema inspired program gave me. A big goal of mine is to travel through doing what I love—advocating, teaching, and making new connections while shedding light on how amazing this program can be.
---
Melis Erselcan (Turkey)
My name is Melis Erselcan and I am going to tell you my short but busy life story. I was born in İstanbul, Turkey on a Monday morning in the summer of 2004. My introduction to music started in my mother's tummy. When she was pregnant with me, she listened to lots of classical music and took me to concerts with her. With their shared taste in music, my parents created a path for me to follow—not just to listen, but to create. One day, when I was nine, I watched a movie called Music of the Heart; I was so impressed that I started playing the violin, a journey that has lasted over nine years since.
One year later, I met Barış İçin Müzik Vakfı (Music for Peace Foundation), the El Sistema-Inspired program through which I got a chance to be an ambassador. Throughout my six-year journey with Barış İçin Müzik, I met lovely people, embraced a second family, and learned many things, both musical and moral. I've been fortunate to perform on many significant stages like Zorlu Main Theatre, Cemal Reşit Rey Concert Hall, Tekfur Palace, Pera Museum, and more. Additionally, I've taken part in broadcasts through Habertürk and Gedik Radio, WOW (Women of the world) Festival, MARUF, İstanbul Music Festival, and so on. Without fail, every stage and every concert made me feel exhilarated and important.
All of the opportunities I was given by my program have played a significant role in my life. Unfortunately, all beautiful things must come to an end. After the onset of Covid, we worked on a couple of projects—including a production of Peter and the Wolf accompanied by Şebnem Bozoklu—but operational issues forced the foundation to take an indefinite break in summer 2021.
This is my third year as an Ambassador. In my time here, I've met talented musicians of different ages and from different countries. Even when I stopped participating in a program, with Axelle Miel's leadership—our dear program manager before Pedro—I continued to represent Turkey. Last year I designed and drew the Ambassadors logo with the help of last year's cohort. I am proud to be an Ambassador.
---
Tamara Castillo (U.S.A.)
I am Tamara Castillo, first-generation Mexican-American born in California. I now reside in Utah as a high school senior and plan to attend a four-year university pursuing a variety of interests.
From a very young age, I had a deep connection to the fine arts. My mom likes to say that it was because she played a lot of music for me when I was in the womb. When the opportunity arose for me to play an instrument, I was more than willing. And instead of playing the small squeaky instruments, my eyes fell upon a wooden piece so grand, warm, and rich in sound. There was no turning back. The cello will always be my first passion.
Still, I've always been a shy, introverted kid with high perfectionist expectations. Year by year, I felt myself losing my voice and my light. Then came Mrs. Christensen, my Sistema director, teacher, and employer. I recall a time when I came to her sobbing after a concert because I felt I was not good enough; not able; not worth the time to teach; not perfect. Step by step, Mrs. Christensen became my guide in trusting the process of learning and making mistakes. My greatest goal was to join Sistema Strings, the most advanced performing group of the program, and a few years later, Mrs. Christensen helped me get there. I owe the beginning of my growth in my self-confidence to Sistema; it was through music that I came to know I was talented, and through the program's emphasis on community that I learned what it meant to be a true musician and how to connect with others and the world.
Despite my quiet nature, you best believe I loved to perform. At each "Show What You Know" elementary school assembly, I would loudly and proudly recite the words of the poems we'd perform. Making people laugh, smile, understand, and enjoy my performance made my heart its happiest.
One of my greatest loves in this world is theatre. Nothing can compare to the feeling I get when I am on stage, under the bright lights, living in a completely different world. What I love the most is the opportunity to feel a range of emotions and provide an audience with a flicker of hope, a moment of laughter or self-reflection, and a chance to escape. As a young child watching the older high school kids in musical previews, I made a promise to myself that I would audition for a musical the second I was given an opportunity. When I heard there were auditions for Rodgers & Hammerstein's Cinderella (my favorite princess of all time) in seventh grade, I immediately went to audition—with no experience whatsoever and only the song "Happy Birthday" ready to go. In the end, the need for a big ensemble and my "go big or go home" mindset were the reasons for my high school theatre beginnings.
I recognized that I was starting at the bottom, viewed as nothing but an immature, annoying-by-nature seventh-grader who didn't know what she was doing. But I accepted my role, followed every instruction, and worked hard to bring everything I had to the table. It felt like it was my one shot… and in the words of Hamilton, "I am not throwing away my shot" (or Barbra Streisand in Funny Girl: "I've gotta fly once, I've gotta try once." I've performed in many shows since then, and have even been recognized with awards for individual performance. (Recently, I had the opportunity to perform one last time at my school in the musical production of The Drowsy Chaperone as Janet van de Graaff. If you want a little taste of what the show is like, just search "Sutton Foster on The Drowsy Chaperone" or "Bride's Lament" on YouTube. It's a classic.)
Having learned many lessons from my struggles as a teen—especially in 2020—I strive to promote mental health as much as possible. If there is one important note to take away, it is the significance of simply listening and being present with someone. As human beings, we just want to be heard and understood. When we work toward checking in with people, listening to what they have to say, and opening our hearts and minds to a different perspective, then we can finally start working toward a better tomorrow. To anyone who is struggling right now, remember to take one step at a time, prioritize self-care, and appreciate the small things, be it the rise of the morning sun, a breath of fresh air, or the sound of singing birds. We are stronger than we think and more capable than we know.
---
Molly Thet Htarr (Myanmar)
Hello, everyone! My name is Molly, and I am one of The Ensemble's Ambassadors this year! I was born and raised in Myanmar. Unfortunately, due to the coup that occurred two years ago, I had to leave the country to pursue further education. I was very involved in the protests against Myanmar's post-coup military regime, using my music as a force for peace. That is one of the major reasons why I had to leave for my safety. I believe we should have the right to speak up for what we believe in without the fear of being silenced, and the right to vote for a government that we believe will help Myanmar thrive. However, the military junta is threatening those rights. I wish to use my voice to connect and learn more about people around me, as well as to spread awareness about the right to free speech.
I am currently studying at a college in Malaysia. I love the diverse culture and foods here, which are similar to what I experienced growing up in Myanmar. Even though I was very homesick in my first year, I adapted quite well thanks to the welcoming nature of the people here.
I love music and sports, and I currently represent my college in badminton, volleyball, and football (soccer) tournaments. I would not be able to pick one because I think they go hand in hand; for instance, I use the beats of a match to predict where and when to receive a volleyball serve. Those elements may sound totally unrelated, but it makes sense to me. I started learning the piano in 2014—it is crazy to think that I have been playing music for half my life! I love improvising, and my compositions usually stretch from euphonious perfect chords to clashing dissonant chords that are woven into the piece. I have performed in many concerts and recitals throughout the years while meeting great musicians from around the world. This program is also an excellent opportunity for me to meet more people and learn from them! I was an Ambassador last year and I had so much fun making beautiful music with everyone. Sadly, I have not been able to attend the first few meetings this year because I live on the other side of the world from the rest of the cohort. I do hope to see them very soon!
---
Gracie Lewis (Canada)
Hello! My name is Gracie Lewis and I play flute and piccolo! I am 16 years old and live in Canada. I have been playing music for nine years and started through the Sistema NB program. I am playing with the New Brunswick Youth Orchestra, as well as my cities orchestra. Outside of music, I enjoy playing basketball and volunteering for my high school. This is my second year participating in The Ensemble's Ambassador Program.
Music has created many great opportunities for me. I have been to every corner of my province, playing in gorgeous concert halls and venues in my area. Music has brought me and my best friends together as we continue to tour around New Brunswick. Music even gave us the opportunity to perform at Carnegie Hall in New York City this summer, as well as perform at an event where her royal highness Princess Anne will be in attendance. Playing music has been such an influential part of my life, and I can't wait to see what other opportunities music will bring me in the future!
---
Jacobo Mayo Espina (Colombia)
I began my musical career in 2008 in Red de Escuelas de Música de Medellín. In 2014, I entered the Medellín Philharmonic Academy (known today as Iberacademy), an institution that granted me a scholarship to do my pre-university studies at the EAFIT university.
As a member of the Iberoamerican Philharmonic Academy IBERACADEMY and an EAFIT student, I have had the opportunity to represent both institutions in national and international musical events, in countries such as Switzerland, Austria, Liechtenstein, and the United States, collaborating with renowned orchestras such as the National Symphony of Colombia, EAFIT Symphony, Musikkollegium of Winterthur, and the Mozart Kinderocherter of Salzburg, in addition to participating in various festivals and music courses.
At a national level, I have participated in concerts as a soloist, recitalist, and chamber musician, the latter being my strongest performance foundation. So much so, in fact, that in 2020 I was awarded first place in the El Retiro Chamber Music Contest!
I am currently studying the seventh semester of undergraduate music at the EAFIT university with the teacher Jhoser Salazar and I am part of the Ibero-American Philharmonic Academy, where I work as a clarinetist and mentor.
---
Esteban Molina (Colombia)
Hello! My name is Esteban Molina Callejas and I am from Medellín, Colombia. I am currently in my fourth semester as an undergraduate as a music student with an emphasis on clarinet at Universidad EAFIT in Colombia.
I started my studies at the Barbosa Music School in Antioquia, a municipality that is close to Medellín. Later in 2016, with help of my parents, I took a couple of music courses at the university where I currently study. Meeting those amazing professors is how I fell in love with music, and everything related to the clarinet. In 2018, I discovered the Iberacademy Program, which offers multiple learning spaces that promote the development and integrity of future generations of musicians. With Iberacademy, I've shared many beautiful and important experiences through music. For example, I had my first experience playing in an orchestra and being a mentor on clarinet in different parts of Antioquia—the latter being something I am very passionate about. Additionally, I've had the opportunity to play as a soloist with a symphonic orchestra and traveled around the world to play in grand venues. One of my favorite memories was getting to play Großer Saal Mozarteum, where I had the opportunity to perform in unforgettable concerts and meet exceptional people.
On the other side of the spectrum, I've had the grand pleasure of joining The Ensemble as an Ambassador, where I've had the lovely experience of meeting new friends, learning, and being creative. I'm thankful to find this space through music and am excited about what this year will bring.